Green building is not just a passing trend. Commercial construction projects, large or small, have long term environmental, economic, and social consequences.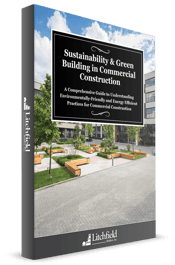 In Connecticut and the country in general, the incorporation of sustainable practices is a hot topic.
This guide highlights:
Popular green building practices
The best recycled and reclaimed materials
Roofing and lighting trends
Sustainable site design, and more!
Fill out the form to get your free copy and start your commercial construction project off on the right foot!