Award-Winning Home Building and Remodeling in Madison
Premier home construction services and unmatched customer service by Litchfield Builders.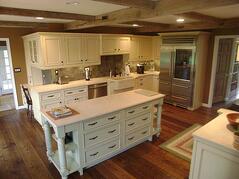 From custom decks to full bathroom and kitchen remodels, Litchfield Builders has been completing residential remodeling projects in Madison, Connecticut and the surrounding area for over 20 years.
A highly-accomplished contractor, we have received dozens of accolades for our residential work including AIA Connecticut's Design Award for Built Design and the Home Builders & Remodelers Association of New Haven's "Remodeler of the Year" in 2008 and 2012.
To see what our skill and expertise can bring to your project, request a free consultation using the form on this page. Get started today!